No results were found for the filter!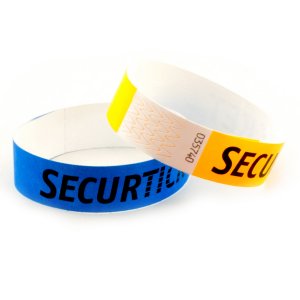 Tyvek printed 1C 19mm (pack of 10)
Delivery time: 3-5 working days
Overnight: For orders placed before 10 a.m.
Content
10 piece(s)
(€0.03 * / 1 piece(s))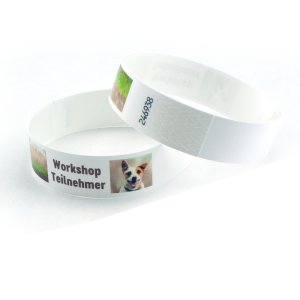 Wristbands made of Tyvek® printed 4C 19mm (pack...
Delivery time: 3-5 working days
Overnight: For orders placed before 10 a.m.
Content
10 piece(s)
(€0.05 * / 1 piece(s))
Was ist Tyvek®?
Tyvek® ist papierähnliches Material der Firma DuPont™. Es ist durch seine reiß- und wasserfeste Eigenschaft das ideale Material für die Produktion von Kontroll- und Einlassbändern.
Obwohl Tyvek® ein Kunststoff ist, der überwiegend aus Spinnvlies besteht, fühlen sich die Kontroll- oder Einlassbänder wie Papier an. Tyvek® Bänder können auch in großen Mengen mit geringem Aufwand transportiert werden. Sie können geklebt werden und benötigen keine extra Verschlüsse. Außerdem sind sie nicht wiederverschließbar und somit auch nicht übertragbar. Somit sind Tyvek Einlassbänder ideal als Festivalbänder oder Kontrollbänder für Events in allen Bereichen geeignet.
Perfekte Einlassbänder für jedes Event
Diese Kontrollarmbänder ersetzen übertragbare Abzeichen, Eintrittskarten oder Stempel, welche normalerweise bei Events und Veranstaltungen eingesetzt werden. Die Anwendung ist denkbar einfach: Einfach Schutzfolie abziehen, um den Arm legen, zusammendrücken, fertig.
Natürlich können Sie nicht nur Personen, sondern auch andere Sachen und Waren wie beispielsweise Gepäckstücke oder Kleidung mit einem Kontrollarmband markieren. Als Produktvarianten stehen Ihnen das schmale und breite Einlassbändchen zur Auswahl. Der Preis bleibt bei beiden derselbe, jedoch bietet Ihnen die breite Variante mehr Platz für Ihren Aufdruck oder eine spätere manuelle Beschriftung. Unsere speziellen Drucker erlauben Ihnen, diese Einlassbänder mit eigenen Designs oder Schriftzügen zu bedrucken. Der Online-Designer erlaubt Ihnen individuelle Gestaltung und Farbgebung bis hin zu neon-farbenen Designs.
Lanyards / Schlüsselbänder als weiteres Werbemittel
Lanyards sind ein praktisches Accessoire, das bei vielen Veranstaltungen und Messen zum Einsatz kommt. Diese Werbegeschenke sind nicht nur nützlich, sondern auch eine hervorragende Möglichkeit, die Sichtbarkeit Ihrer Marke zu erhöhen. Verschenken Sie personalisierte Lanyards mit Ihrem Logo an Kunden oder Partner und hinterlassen Sie Eindruck.
Bei uns können Sie Ihre Werbeartikel z.B Lanyards bedrucken oder bereits vorgefertigte Designs nutzen.